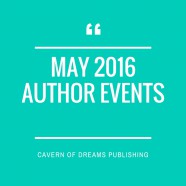 Cavern of Dreams Publishing is excited to be a part of the BOOK EXTRAVAGANZA with the Brantford Writer's Circle at the Lynden Park Mall in Brantford, ON on Saturday, May 7th from 10am – 12pm. Stop by our table to meet many of our authors and those from the local writing group, the Brantford Writer's Circle. All publications are available for purchase and our authors are happy to sign copies personally for you. Hope to see you there!
Cavern of Dreams Publishing author Leah Fletcher (Dreaming is Believing) will be accompanying Brantford author Zig Misiak  at the Spring into Summer Craft and Gift Show in Burlington, ON, Saturday May 14th from 9am-3pm. This event is taking place at St. John's Anglican Church, 2464 Dundas St., Burlington, ON.
Also on Saturday, May 14th you can find Cavern of Dreams Publishing authors Mary M. Cushnie-Mansour and Regina Jetleb. Armanda Lambert, and Diane Lewis at the 38th Annual Thorold Arts and Craft Show 2016, from 10am-4pm. This event is taking place at the Thorold Arena, 70 Front St. N., in downtown Thorold, ON.
On Saturday, May 21st Cavern of Dreams Publishing's authors along with Zig Misiak will be celebrating local authors  at the Bookworm in Brantford, ON, at 331 Brant Ave., from 10-4pm, with all their publications. Come out and support Brantford's last independently owned book store!