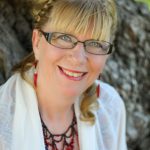 Mary was born on November 15, 1953, in Stoney Creek, Ontario, Canada. She is a freelance creative writer who now resides in Brantford, Ontario with her husband, Adel (Ed).
Mary's love for the written word began at an early age. Daydreamer was the description her teachers would write on her report cards and Mary knew from a young age she wanted nothing more out of life than to become a great Canadian novelist and storyteller. In her early years, she penned poetry, songs, and plays, as well as several stories.
As time passed, life took a different path for Mary. Despite this, she never allowed her dream of writing to die, despite her written pages being few and far between. In her 30's, Mary returned to university with the intention of obtaining a teaching degree. Her first course was Essay Writing. The embers began to burn and Mary produced several essays that, although they loosely followed the type of essay required, were more of a story. Mary started to write again. She produced pages of poetry and wrote several children's stories. She began the first draft of what was to become the first book in the Night's Vampire series. During this period, Mary approached the school board and was hired on to do writing enrichment classes for students.
In 2005-2006, Mary returned to Waterloo University and obtained a Freelance Journalism Certificate, after which, she was hired on as a freelance columnist for the Brantford Expositor. Over the next three years, she wrote a weekly/bi-weekly short story column and several special interest articles. In 2009, due to corporate cuts, Mary's column was canceled. After the initial disappointment, Mary took the bull by the horns and plunged forward with publishing a collection of short stories gleaned from her column, and two more poetry books. She began to take another look at her vampire novel, Night's Gift, and was encouraged by friends to finish it and get it published.
Since 2009, Mary has participated each year, successfully, in NaNoWriMo (National Novel Writing Month). Several of those works have either been published (editions of the vampire series) or are waiting for the magic red pen of her editors to help her get them to print!
Mary refuses to look back. She has so many unfinished manuscripts on her shelf, she may not be able to get to them all before she starts writing on the next playing field of life!
Mary is a regular blogger – Writer on the Run – and you can read her blogs and see her books on her website WriterOnTheRun.ca
You can contact also her at mary@writerontherun.ca
Publications
POETRY
SHORT STORIES
NIGHT'S VAMPIRE SERIES
MYSTERIES
BIOGRAPHIES
YOUTH NOVELS
CHILDREN'S BOOKS
BILINGUAL CHILDREN'S BOOKS
COLOURING BOOKS
---
Save
Save
Save
Save