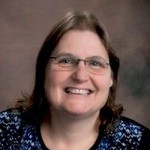 Regina was born in Cologne, Germany, and came to Canada when she was 18 months old. She lived in Toronto before moving to Brantford with her husband and two teenage children.
Regina has a degree in psychology from York University in Toronto, as well as an Early Childhood Education diploma from Humber College in Toronto.
Regina has always enjoyed working with children, and it has been a huge part of her life. She babysat as a young teen, was a live-in nanny, and has volunteered as a leader for both Girl Guides and Boy Scouts. She worked in a Scarborough daycare before having her son and then was self-employed with Wee Watch Home Daycare for thirteen years. She currently works in a daycare and preschool in Paris, ON with three- and four-year-olds.
Regina enjoys reading, and began writing stories when she was seven or eight-years-old. Her writing faded into the background after high school, and it wasn't until after her son was born that she picked up the pen again to write fiction for pleasure. After stumbling onto a correspondence course on writing for children and teenagers, What about Hailey? was born.
But What About Hailey? was tucked into a drawer, not to see the light of day for fifteen years. Regina discovered Cavern of Dreams Publishing through Mary M. Cushnie-Mansour's vampire trilogy, and has since published five YA novels, What About Hailey?, The Girl in the Mall, What About Dylan?, F-I-N-E is a Four-Letter Word, and What About Lucas? with the company.
Regina continues to enjoy her relationship with the team at Cavern of Dreams, and her new path in life of realizing her dream of being a published author. She is learning everything she can about writing, and the editing and publishing processes. She looks forward to continuing to hone her craft as a writer with the guidance and expertise of the Cavern of Dreams Publishing team.
Publications
---
Save