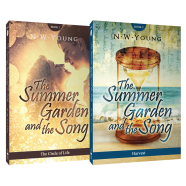 Hello, February!
Winter always feels like it's never-ending, with frigid temps, snow, slush, biting winds, and a seemingly constant cloud cover, it's no wonder we all want to stay holed up indoors with a good novel!
So what are you reading?!
Cavern of Dreams Publishing has great titles available to keep you happily inside, slippers on, wrapped in a blanket, with a glass of wine or your favourite hot beverage in hand!
Set in the late 1950's in the "Tobacco Belt" of Norfolk County, Ontario, N.W. Young's epic, 2-book coming of age love story will keep you curled up for hours!
Meet Mick Neilson, 17-going-on-18yrs old, a young man with a tobacco farm background and big music dreams. Growing up in the small village of Haddon Junction hasn't been easy for him, but 1959 will prove to be his most challenging – and defining – year yet, as he finds love, friendship, and heartbreak like never before. 1959 will take Mick from boy to man.
Classic vampire in the modern world! Sexy, a bit scary, and full of twists and turns, this series is a must read!
Virgina moves to Brantford hoping for a fresh start. She never imagined plunging into a world straight out of her darkest nightmares … and wildest fantasies. A world where love and fear are so intricately intertwined, she might not be able to to tell the difference anymore. She also might not care to.
ALSO AVAILABLE: First Edition Night's Children at the clearance price of $8! Same book, different cover, HUGE SAVINGS! *Only while copies available – they're going fast!*
*Get Ready for Night's Betrayals coming Spring 2017!*
Marriage: a coveted "grown-up" step in today's world. But what does marriage really mean? Is it truly the definition of what society thinks, and, what does it define? This novella explores modern ideas of marriage for one woman.
Sabrina never thought she was the marrying type. After being personally cautioned against it, she's sure she'll never make it down the isle. But tell that to the 5 men who darken her doorway with 5 marriage proposals! Will Sabrina accept? Or is she truly not the marrying type?
This touching memoir explores a grandmother's journey through grief, guided from the Other Side, into a place of healing.
When Diane learns her precious granddaughter has been suddenly and tragically taken from her, she is sure she will never be able to go on. Weeks later, Amanda's voice reaches out to her -"I'm okay, Gran," – beginning Diane's fascinating and sometimes terrifying journey to a place of hope and healing.
This novel by UK author Allan Lewis gets inside your head and stays there! A psychological mystery thriller with just a touch of kink that keeps you hanging on to the very end!
The Timberlakes are an average California couple until The Magic Man, one of the FBI's most wanted, comes into their lives – and their dreams – bringing the FBI, the CIA, and the entire U.S. Government with him!
This adult only erotica is hot, hot, HOT!
The erotic spin-off of Allan's novel Get Out of My Dreams revisits Jean Thorton, the Timberlakes neighbour and The Magic Man's favourite beauty queen. The Magic Man takes Jean on an erotic dream adventure to 1600's France, where she is a lowly serving wench willing to do ANYTHING to make enough money to support her family and get her home and married to her beloved, Steve.
And that's just our adult novel selection! Stay tuned for features on our poetry, short story, YA, and children's books selections!