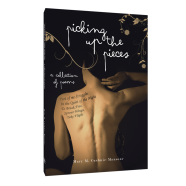 "…I look around and I observe, and my heart bleeds the ink with which I write the poems. I hope, if you are reading them, you will find a semblance of courage, knowing you are not the only one who has suffered.
To all my sisters: Be brave. Be strong. Embrace life. You are not alone."
Those powerful words are taken from the back cover of Mary M. Cushnie-Mansour's new poetry book, Picking Up The Pieces; a collection of new and previously published poems that focuses on women and women's issues.
Picking Up The Pieces is now available at the Cavern of Dreams Publishing online store, and will be part of the fundraising campaign created by Mary and fellow COD author Armanda Lambert (I Thee Fled) in support of Nova Vita, an organization that supports women and children in abusive situations. Stay tuned for more information on their wonderful initiative coming this week!
If you are a lover of poetry, feel strongly about women's issues, or just want to read something you can really connect with, make sure you get a copy of Picking Up The Pieces.