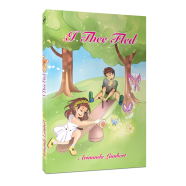 AVAILABLE NOW! I Thee Fled, the first novel by Brantford author Armanda Lambert, is now available through Cavern of Dreams Publishing! I Thee Fled follows Sabrina on her journey of self-discovery through five marriage proposals and her search to answer: Is she the marrying type?
I Thee Fled is funny, heartwarming, and thought-provoking; a definite must-read! It is available on the Cavern of Dreams Publishing's online store, through the author, and will be coming soon to Amazon, in print and as an e-book everywhere e-books are sold.
Check out our interview with Armanda and look for her at the BOOK EXTRAVAGANZA Saturday May 7th at the Lynden Park Mall!