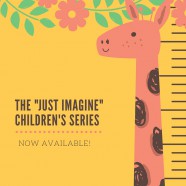 Cavern of Dreams Publishing is excited to be a part of the "Just Imagine" Children's series – a series of primary level, bilingual (french and english), stories with tons of cute characters, pictures for colouring, key words, and questions for caregivers and kids to answer together! Written by Mary M. Cushnie-Mansour with the illustrations of Duncan Graham and Kate Pellerin, these books are fast becoming fun favourites for young readers!
Current titles are: The Day Bo Found His Bark; Jesse's Secret; The Temper Tantrum; Freddy Frog's Frolic; and Teensy Weensy Spider. Prices range between $9 – $12 each, and are available from the Cavern of Dreams online store, on Amazon, at all our events, and through the author!
There are more titles coming in Summer 2016 – make sure you collect them all!
Teachers: if you are interested in a set for your classroom or school, please contact info@cavernofdream.com for more information and special pricing options!