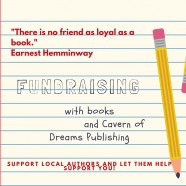 Hello September!
It's that time of year again: as we go back to school and get back into extracurriculars, inevitably the question of fundraising for our schools and organizations arises.  It can be a struggle to find precipitants; may individuals and families are tired of the same old fundraisers offered year after year, but our schools and organizations depend on those funds to provide the best services to students and members.
MAKE THIS YEAR DIFFERENT!
Cavern of Dreams Publishing, in partnership with other local authors, is pleased to offer a unique option: Fundraising With Books! While promoting literacy and Canadian publishing, as well as local authors in the Brantford and area community, this fundraiser offers quality product that any organization can be proud of! We offer an amazing 35% return to the organization, which means if you have 50 sellers generate $100 each in sales, you've earned $1750 for your efforts!
With currently more that 30 titles, in all genres for all ages, there is something for everyone – and new titles are being added all the time!
WHAT ARE YOU WAITING FOR?
Make this year's fundraising fresh and stand out from the crowd – contact us today to get a copy of our catalogue and see for yourself the amazing fundraising opportunity available!
www.info@cavernofdreams.com
519-753-4649