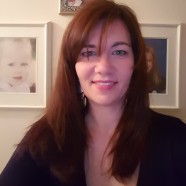 What inspired you to become a writer? Writing seems to be the art form that my soul responds to the best. It's something I've done as a hobby since I was young and decided it's time to take myself seriously about my craft.
How many books have you published? I will have my first children's book coming out this year.
What is the name of your most recent publication? Go to Sleep, Leona!
What is it about? It's about the silliness and imagination of my children.
Where did the idea for your book come from? My children; they've taught me many lessons.
Why did you decide to publish your book? It's something I have wanted to do since I was young. 2016 just happened to be the year I made it a reality.
How did you find Cavern of Dreams Publishing? I met another author who had published through Cavern of Dreams who highly recommended them.
What is the most important lesson you have learned from the writing/publishing process? Just keep the words going, even if it feels like it's just gibberish right now.
What was your biggest challenge/obstacle in your writing/publishing process? Finding the time to write as well as an appropriate environment to write.
What advice would you give to someone wanting to publish his or her work? It's not as scary as you think it is. Start asking around and get as much feedback as possible.
Are you currently working on anything now? If so, what? Yes, I am working on more children's books as well as a novel, which I hope to finish by the end of the year.
What is your next writing goal? I'd like to have a series of the Halia and Leona books that grow with my readers as my children grow. I'd also like to have a line of novels which are separate from the children's books.
Where can readers find your books? Go to Sleep, Leona! will be available in September 2016 through Cavern of Dreams Publishing, and through myself. It will be available on Amazon shortly thereafter.