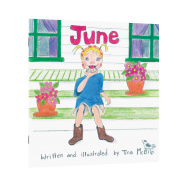 June is the adorable children's release from Waterford author and illustrator Tina McGilp. It tells the tale of sweet little June, who tells her neighbor all about her friends and their talents while baking cookies, then wonders: what am I good at?
Gorgeously illustrated and brightly coloured, June is a fun and thoughtful read for children of all ages! As an extra bonus, Tina has included two tasty cookie recipes for you to try with your little ones at home!
June is available on the Cavern of Dreams Publishing online store, through the author, at all author and publisher appearances and events, as well as Amazon!