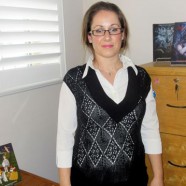 Publishing dreams with a local focus
Brant News, March 4, 2016
A poster hanging above the desk of Bethany Jamieson-Mansour reads, "Every writer's dream is to be published. Few realize it."
Jamieson-Mansour is the editor-in-chief of Cavern of Dreams Publishing, which was founded in 1998 and has been open to the public for more than two years.
The Brantford publishing company has a roster of more than 20 different authors.
"Cavern of dreams is opening their publishing and editing services to the public," Jamieson-Mansour said. "We are trying to expand our reach further outside of Brantford and Brant county. We work very hard with all of our authors."
The company is excited for the month of March as it releases books, looks to bring its content and services to events in the spring and opens its doors to new writers with a deal on editing services.
For the entire month of March, the company is offering a 20 per cent discount on all editorial evaluations and an additional 10 per cent off if you sign up for further editing. Editing and publishing are separate so writers can come to the company for either or both services.
"An editorial evaluation is a valuable tool for writer's ready to consider publishing. It provides an editor's critique, advice and next step suggestions for your manuscript, while sourcing direct examples from your work," reads a statement on the company's website. "The evaluation gives you feedback to consider and implement in your manuscript before moving on to an edit or presenting it to a publisher.
"We are an in between between the big publishing houses and the self publishing."
The company recently began a fundraiser that looks to step away from traditional campaigns and focus on offering fresh, Canadian-made, quality products in a catalogue-style selling opportunity. The "Fundraising with Books" campaign offers a catalogue of 21 books with something for everyone. The company boasts fiction, non-fiction and poetry including children's, young adult, adult and First Nations content.
Organizations who participate in the campaign will see 35 per cent of the profits go back into the organization. The fundraiser is set up with a catalogue and order form that is meant to be shared with family, friends and co-workers.
Cavern of Dreams is also excited about the release the first two Just Imagine Colour-Me books, a series of children's books by Brantford author Mary M. Cushnie-Mansour.
The books will feature bilingual content, keywords and questions and will be an interactive and engaging read for children and their parents, teachers or guardians. The company will look to release two books of the series every two months to total up to six this year.
For Cushnie-Mansour, a set of short story mysteries and the fifth Night's Vampire book are also in the works for the coming months. In the spring, the company will take their books to events including the Elora Craft and Marketplace on April 10, the Family Expo on April 16 in Elmira, the Port Dover Book Fair on April 30 and, along with members of the Brantford Writer's Circle, will be at the Lynden Park Mall on May 7.
"We want to make sure our authors are releasing books that they are proud of," Jamieson-Mansour said.
The company is focused on local talents, and providing high quality editing and publishing services.
"We still keep the author's voice as a high priority while editing," said Cushnie-Mansour. "We work directly with our authors to bring their work to completion – there is no go-between."
---
Source: http://www.brantnews.com/news-story/6376535-publishing-dreams-with-a-local-focus/