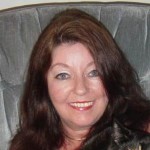 Sharon Duboy-Eberhardt was born in Brantford, ON, Canada. Sharon is a poet and a songwriter but mostly considers herself as a short story writer.
After 22 years in nursing, Sharon was forced to retire due to ill health. She began taking herself seriously as a writer and has been published in many magazines and books. Her first anthology of short stories was published in 2007 by Cavern of Dreams Publishing.
Rod Sterling from The Twilight Zone was a great inspiration for Sharon, and her hope is that, with her stories, she has made him proud!
---