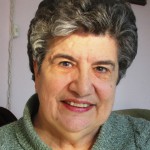 Mirella Coacci van der Zyl was born in Torino, Italy, during WW II. She was the second of five children of a Baptist minister in Italy. Mirella grew up knowing the war and also the life of the Church. She came to Canada in 1965 and followed theological studies. Eventually, Mirella was ordained into the ministry with the Canadian Baptists of Ontario and Quebec.
After almost twenty years as a chaplain in various hospitals, Mirella retired in 2005 and began her writing career. Her stories have appeared in the local newspaper, "The Brantford Expositor" and numerous religious magazines. She is the author of "On Call for God," a book about her experiences as a chaplain, and "Toy Guns, Childhood Memories of War." Currently, Mirella is working on a children's story, "Silva's Journey." This is a family collaboration, the pictures being done by her sister, Daniela Harrell.
Mirella now lives in Mt. Pleasant, Ontario, Canada, with her husband, Ernest, a nature photographer and bird watcher.
Publications
---
Save